Habit 1
Carry yourself
Impressively your core muscles are active before you move, before you lift, before you change direction. They are intuitive, but without strength can't be utilised.
With an active core power can then be transferred to your arms and legs. Without a strong core you miss out on a stable foundation to base your movement from and can therefore be losing strength.
Athletes often believe their core to be strong because they can run long distances or lift heavy weights, but often this isn't the case. Some may be able to do these things, but it comes with increased injury risk or pain.
What is your core ?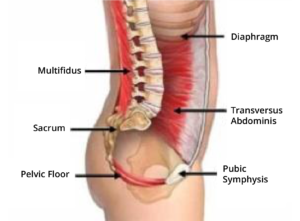 Your core is a series of muscles that work together. Think of it as a barrel.
Pelvic floor at the bottom (assisting in continence), Transversus Abdominus the corset around the middle, Multifidus up the back (keeping you upright), and the Diaphragm at the top of the barrel.
The core muscles job is to resist movement (most muscles are used for propulsion) and that is why we often start our core workout in static postures.
Slouching shortens your abdominal muscles (your six-pack, in front of your core) and unfortunately 1 x 30min visit to the gym each week won't overcome the hours we spend sitting (and shortening these muscles). How does this affect your core? Your body will always take the path of least resistance. You will activate your abdominals instead of your core- this doesn't provide the same intuitive foundation strength.
Today be mindful of your posture all day long. Sit up (think tall through your crown), shoulders back and down and open your hips. Belly button gently drawn toward your spine and relaxed breathing. Use post-it note reminders, phone alarms, mirrors or your shadow whatever it takes to draw your attention to your posture. You'll be shocked by how quickly you fall back into old habits.
Habit 2
Rest
One of the best ways to avoid injury is to rest.
Continuing to train through times of fatigue is dangerous when it comes to injury. Technique is lost, compensations are made and accidents happen.
Often nothing else has changed in an athlete's training schedule, load or type except that the night before an injury occurred, they had a terrible night's sleep. Your body repairs and replenishes while you sleep. As you enter into a deep sleep cycle your pituitary gland in the brain releases growth hormone. This is responsible for tissue growth and muscle repair.
Be smart, listen to your body.  Know that it is a skill to recognise when your body is telling you to rest (compared to when your motivation is wavering). We often discuss "total training load". Weekend warriors (no this isn't offensive or degrading what you do- quite the opposite… we juggle work commitments, family, household tasks etc AND still manage to train) are at significant risk of unknowingly increasing their total training load. Keep a diary; maybe you did 3 hours of housework or gardening after this mornings long run. Factor that in to your required recovery time. It will increase how much rest you need before your next session.
Your task for today is to get a solid 8 hours sleep. Take note of tomorrow's training session and the ease of recovery following it.
Habit 3
Contract your core.
As you now know, your core is imperative in creating a strong foundation. Now you know where and what it is, it's time to use it!
Here's 4 exercises to add into your routine but remember this is only a starting point, you should progress within 10 days (time of muscle activation and adaption).
1. PELVIC FLOOR
Lie on your back with your knees bent and spine in neutral. Gently contract pelvic floor muscles using one of the following cues…
Draw pelvic floor up like you are slowing the flow of urine
Imagine sucking up a thick shake from a straw
Men imagine drawing your testicles up towards your belly, or walking into cold water!
The contraction is smaller than you think. You should not feel your tummy "blow out" or feel the need to hold your breath.
Once you have your pelvic floor switched on, continue to breathe normally and hold the contraction as long as you are able, before fatigue sets in. Repeat this as many times as you are able before you start to see a decline in how long you can hold for. The gold standard is 10 sec holds x 10 reps.
2. TRANSVERSE ABDOMINUS
Lie on your back with your knees bent and spine in neutral. To feel for your Transverse Abdominus muscle feel for hip bones and move 2cm in and down and push in firmly.
Gently contract Transverse Abdominus using one of the following cues:
Gently draw bellybutton in towards spine
Try to draw your hip bones together
Draw lower stomach away from underwear line
Think about flattening your back into the bed (but don't actually do it)
You should feel the muscle tense underneath your fingers whilst keeping your outer stomach muscles (your six pack) relaxed.
Continue to breathe normally as you keep the muscle contracted. Again contract as long as you are able for as many reps as you can manage before fatigue sets in. You then use this time and rep count as your starting point.
Know that often we see patients with better activation when trying to combine PF and TA. If you aren't able to feel one, try both simultaneously.
3. BRIDGING
Lie on your back in neutral spine. Activate your newly found PF and TA muscles.
Push through heels and squeeze bottom muscles to lift hips from the ground. You should only raise as high as you are able to maintain a "neutral" spine i.e. without adding to the curve of your lower back.
At the top of the movement check the muscles on the back (hamstrings) and inside (adductors) of your legs are staying relaxed.
4. GLUTE MEDIUS
Stand side on to a wall with ball resting against wall and your knee. Start in 1⁄4 squat position (bottom back, knees soft – this helps to activate glute med). Your weight should be on your heels.
Have feet slightly narrower than hip width. Shift weight onto outside leg and lift leg against ball. Make sure when you lift your leg you keep your pelvis and hips stable, don't hitch!
Don't have a ball? You don't need one. Use a cushion, a rolled up towel or just slide your knee along the wall.
Progress…
Move leg against ball forwards and backwards making sure movement is occurring through hip and not spine, progress this to mimicking a running motion including arms.
Habit 4
Eat. Train. Eat. Shower. Repeat.
Food is not something commonly associated with reducing injury risk but it is a big one! Without sufficient fuel your muscles cannot perform to their best. Cramps and loss of power are typical. One of the best analogies I've heard was comparing your body to a car. You can't expect peak performance from your car if you put dodgy, low-grade fuel in it. That translates to a balanced diet high in all the requirements of an active body.
Diets cutting out carbohydrates, fruit or significantly increasing meat and fat have all been in vogue recently. Before embarking on such diets you should consider what you need. Are you training everyday? Are you training more than once a day? Is your training high power for a short time or are you endurance based in your exercise? These factors significantly affect your diet choices.
Dietary advice should be highly individualised and not googled. Some general principles to follow:
Fuel your training.

Eat before endurance sessions, eat if you are hungry, "eat" during long sessions. You will be surprised by your performance gains when your body has sufficient fuel to draw on. Long sessions require caloric intake, be it in the form of carbohydrate drinks or gels. Research suggests sessions longer than 60 mins should involve some fuel replacement.
Pick your fuel.

There is no point loading your body with lots of protein before/during endurance training. Your body cannot effectively metabolise high levels of protein while you are training/competing, instead it will sit in your gut and make you very uncomfortable (or cause gastro upset).

As for fat, low fat diets don't work for athletes. Your body needs fat to function. Think of it as your bodies lubrication, without it your joints suffer. BUT be sensible and pick good fats. Think oily fish, nuts and keep saturated fats to a minimum.

Carbohydrates are another must have, especially for athletes. You need carbohydrates to burn for non aerobic activity. They are your go to energy source, and they are the only fuel your brain can utilise! Hence the brain fog that happens when you're hungry! Again, choose the right ones. No point indulging in sugary fast burning carbohydrates, you'll be reaching into the cupboard again in no time. Instead, think grains, dark breads or vegetables.
Refuel.

Recent research suggests you may only have 18 minutes from finishing a session to ingesting your first protein rich meal in order to avoid excessive muscle breakdown and aid muscle recovery. The amount of protein you need depends on your body weight – keep reading we will teach you how to figure this out now…
How much protein do I need after a session?
Protein is a commonly talked about topic in regards to exercise these days with many diets advocating a pure protein approach. It is an important part of our diets at any time but especially for the training athlete. It aids in recovery, strength gains and performance improvements. Now how to figure out how much.
Current guidelines suggest a range of 1.4 – 2 grams of protein per kilogram of body weight per day is required for training women and men respectively.
Body weight (kg) x 1.4 (female endurance training) = Total protein required each day / Number of meals each day = Total protein required in your post training meal.
Increase the 1.4 figure to 1.6 (female strength) or 1.8 (male endurance) or 2.0 (male strength).
Just remember to ingest it quickly! Don't wait, otherwise you'll be hungry and tired (hangry) for the rest of the day making recovery much more difficult.
Remember, this is only one example. YOUR needs are individual.  Get in touch if you need some advice on who to see, we've got contacts!
Habit 5
Streeeeeeetch.
One of the poorest complied to injury prevention strategies! DO them AFTER training in preparation for your next session, to allow recovery from this one OR do an active warm-up BEFORE your session (but don't mix the two up. Static stretches aren't designed for before training!).
Stretches should be specific to the athlete and activity required from your body. Follow these general principles:
Static stretches. Hold the stretch in a comfortable position for a minimum of 60 seconds or until you FEEL a change in the muscle (i.e. the resistance reduces).
Repeat. Do each of your stretches twice over to maximise efficiency (you may not need to hold as long the second time for the change in resistance to occur).
Think outside the box. It doesn't have to just be traditional stretching. If you get bored, use foam rollers, spikey balls, stretch bands, exercise balls…anything that will pass the time and make it fun!
Today pick 3 stretches most pertinent to your sport or activity and DO them! Make it a habit.
How good you will feel afterwards will motivate you to keep going!
Habit 6
Go shopping.
Shopping has its benefits. Keeping your training gear updated is important to prevent injury. All too often we see patients with running shoes well overdue for replacement, which is a disaster waiting to happen. Shoes are designed to assist in shock absorption, foot placement and control. If they are worn out biomechanics may be altered and technique falters (especially during times of fatigue).
Look at your shoes. Are they worn? Are they worn evenly?  Are you running more than 20km/week?  You should be thinking about replacing shoes every six months (or at least testing them at this time).
Don't change your shoe type for the sake of it.  If your shoe type is working for you; you aren't injured, your feet aren't blistered… don't change them (not even for pretty colours)!
Choose compression. Know what you want out of your compressive gear. Do you want help with recovery or with performance? Full length tights for example may be of more benefit for recovery purposes. Put them on after a session. Calf compression socks or tubes are great for long runs, they may reduce muscle bounce and subsequently fatigue.
Socks aren't just socks. Socks that fit and are contoured are important to maintain foot health.  Sounds inconsequential but if you've ever had a blister and wanted to run you'll know it's not ideal!
Recovery gear. Stretch bands, reflex balls, massage tools. No point just having them, use them too!
Today's new habit is to shop! See a specialty shop. Don't just google the cheapest price- you'll miss out on invaluable information and advice, consider:
https://www.runnulla.com.au/ located in Cronulla
or
https://www.therunningcompany.com.au/the-shire/ located in Kirrawee
both of these stores live it, they practice what they preach and most of all have a passion for keeping you moving.
Habit 7
Mix it up.
Cross training is an integral part of any program. It allows soft-tissue to rest/recover and others to work, it allows rest from impactful exercise and allows utilisation of different training intensities. Without cross training muscles and joints are at risk of overload and therefore injury.
Look at an alternative exercise form as just as efficient in improving your fitness and your journey toward your end goal. Are you planning on running a 10km race? Book in for a spin class instead. Your joints will thank you, your heart rate will still climb and your strength improve.
Implementing these 7 simple habits will make a significant improvement in your training outcomes and reduce your risk of injury. Make these things a priority in your training schedule. Write them in, make time. It will make the "hard stuff" much more effective.
Keep loving your life.
Lauren