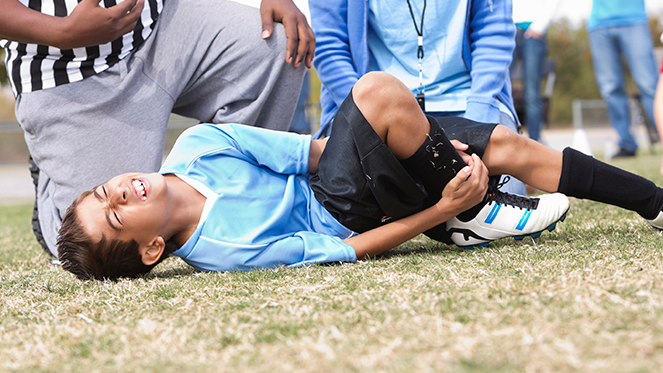 As winter sport season continues and the injuries start to roll into the clinic here is a timely reminder about how to manage an injury, specifically in children.
There are mountains of research about what is the best way to manage injury but unfortunately this information isn't always conveyed to the general public. So, if you are watching your child's game and there is an incident, try to remember these basic principles.
– Active movement. Ask the patient to move, can they? Don't rush in and grab their ankle and see what YOU can do. At this stage, passive movement doesn't give any useful information.
– Weight bearing. Can they stand? Can they walk? This information is invaluable (we aren't too concerned with pain levels but instead function). If they are able to weight bear it is less likely that presentation to the emergency department for x-rays is required.
– Swelling. Most injuries we see on the sports field are muscle, ligament or tendon based. Significant damage is associated with swelling, severe swelling that occurs immediately is a sign that further investigation is required.
Basic first aid.
– Blood. Obviously blood loss is a concern. If there are copious amounts of loss urgent medical care is required. Professionals will ask questions. Take note how much loss has occurred and be aware that the addition of fluid makes it look worse than it is. Gruesome but how many cloths have been soaked through?
– Spinal concerns? Awkward tackles, whiplash motions, falls. If there is any concern at all of a spinal injury- do NOT move the patient. Call an ambulance.
– 000. In the moment of an emergency, amongst the panic often it is assumed that someone has called an ambulance. If you are a first responder, and able, look someone in the eye and tell THEM to call an ambulance while you administer first aid. If you are second on the scene- ask "How long till the ambulance arrives?" this will avoid any confusion, preventing precious delay.
So, acute care taken care of. Your patient is at home. What do you do?
– Compression. Start from the end of the limb and work your way above the next joint.
– Relative rest. Only do what you can without significant discomfort. Need crutches to walk comfortably?
– Elevation. Raise the injured limb above the heart.
– Ice. Use for 24-72 hours (or until the heat associated with injury has subsided). Tripped on day 4 and the swelling returns? Ice again. While the jury is out on how much to ice, our suggestion is to keep ice on for 10-20mins at a time with a layer between the ice and skin to avoid burns. Repeat hourly as able.
– Pain relief. This one is tricky and while you should always get your medication advice from your GP or pharmacist we can suggest that paracetamol is the best go-to. Sometimes taking NSAIDS (anti-inflamms) immediately is not ideal.
– How long to wait? What is a reasonable time frame to wait for improvement before seeking further advice? Following the immediate injury including swelling, heat etc application of the afore mentioned management strategies should result in an improvement in symptoms. If there is no improvement within 24 hours and pain control is difficult present to your local health professional for advice. Physiotherapists are able to refer you for x-rays as required and we will always send you on to the GP or emergency department as required. No ego here!
Things to watch for…
Children are tricky beasts! And parents often come in with tail between their legs sorry they haven't taken the injury seriously. Suggestive that their child has "put it on". BUT children do not pretend in the middle of the night, or while getting to the bathroom or in the presence of distraction. Altered gait that persists longer than a few minutes is a concern.
Children's injuries are different to adults, unfortunately they can also be more dramatic and severe when they occur. Most of the time kids bounce, they are resilient and they are bendy. If they don't jump up, chances are there is a problem.
Want to know more? Any particular concerns? Get in touch.
#physiocronulla #kidsinsport #loveyourlife