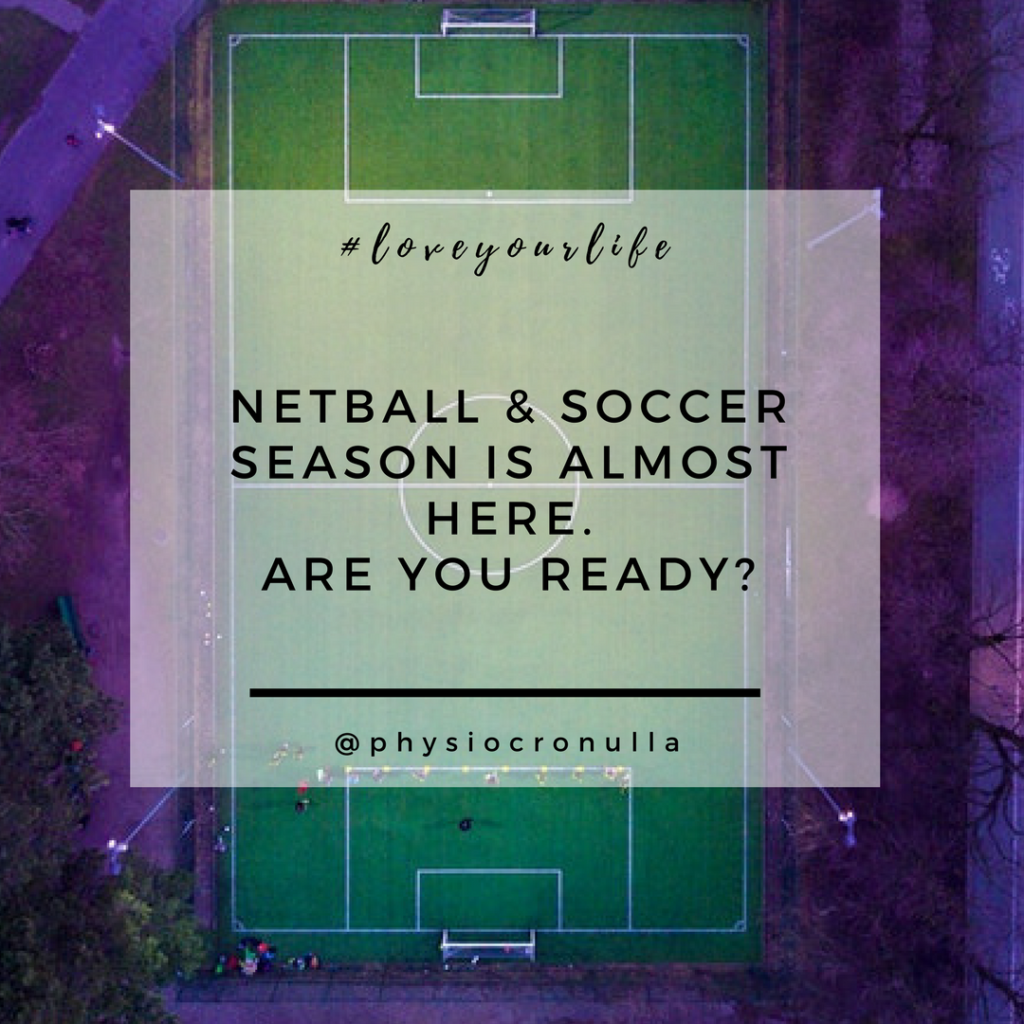 Pre-season is one of those times of year that is neglected by a lot of athletes. Whether your sport is soccer, netball, oz tag or running; pre-season preparation will increase the chances of a happy and productive season. The alternative is to go in under-prepared and find yourself injured and unable to participate. A costly and disappointing experience.
The duration and intensity of pre-season depends on the sport and level of participation. Generally training begins a minimum of 6 weeks and a maximum of 12 weeks before the season. The focus during this time is on building functional strength and muscular endurance. As training progresses sport specific skills are introduced.
For example an over 30's soccer team playing in the top grade will need on average 8 weeks of training before the season. Training would initially focus on aerobic fitness among other things.
Example week:
Run
24min [(4min run: 2min walk/rest) x 4] – By making the run an interval run, technique is maintained and aerobic energy systems are utilised. Effort should be around 60%, players should be able to comfortably hold a conversation.
Strength
3 sets x sport specific body weight exercises
1. Squat x 15
Single leg squat (Hard)
Floor bridge (Easy)
2. Dead-lift x 15
Single leg dead lift (Hard)
Reduced range Nordics (Easy)
3. Push-Up x 15
Burpee (Hard)
Plank/modified plank (Easy)
Soccer specific drills
Short duration, technique focus x 20min.
Stretching
– Focus on hip flexor muscles, gluteals, calf and hamstring
Warm-up/Cool-down
– This week would be the time to implement a set warm-up and cool-down for the athletes. It becomes habit and as studies have now shown sport specific warm-up reduced injury risk and post exercise cool-down reduces muscle soreness in subsequent days.
Weeks would progress to add more plyometric, drills and game practice. It is important to ensure time is spent on strengthening the hip and groin. These areas are the most prone to injury during soccer.
Athletes we see injured in week 3 or 4 of the season report a short-duration of training before the season (or none). Often athletes have had a significant period of time off and may have put on weight. Pre-season training begins with high intensity running, if you belong to a shire team- likely in the sand dunes. But without progressive strengthening, the stabilising muscles will be deconditioned and injury risk is very high.
If you'd like some help with planning your pre-season or have concerns you haven't done enough; get in touch- we're exercises physiologists and can help. Screening is another great tool we can provide your team to identify risk factors for individual athletes.
#physiocronulla #injuryprevention #loveyourlife